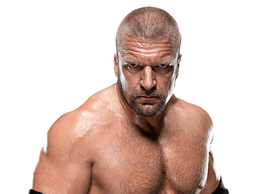 Triple H is a semi-retired wrestler and a COO on WWE. He serves as an anti-hero in 2004-2006, a major antagonist of 2006-2010, the main antagonist of 2014-2015, and an anti-villain in 2015-present. He is Randy Orton's former henchmen turned arch-rival, and a current co-leader of The Authority. He is also Ryback's ally, and an enemy for John Cena.
Role in WWE and villainous acts
At 2004, he and Randy Orton where eventuality rivals, as he took away from Randy many of his rewards. Randy even jumped out of a cake to attack him and push him into the cake.
He however managed to win Randy Orton in one battle, and he was also ultimately defeated by Flair.
In 2006, although Triple H failed to win the Royal Rumble match at the Royal Rumble, another championship opportunity arose for Triple H in the Road to WrestleMania Tournament.
In 2007, he fought Randy Orton and his team, Rated-RKO, as he ultimately lost to them and got heavily injured.
In 2008, he ultimately won Mark Henry. He also defended the championship over the summer by defeating the likes of Edge at The Great American Bash and The Great Khali at SummerSlam, and was the only champion to retain his title at Unforgiven's Championship Scramble matches. After this, he successfully defended it against Jeff Hardy both at No Mercy and Cyber Sunday. At Survivor Series, Triple H was scheduled to defend the championship against Vladimir Kozlov and Jeff Hardy, but Hardy was kept out of the match after a scripted attack and injury. During the match, SmackDown general manager Vickie Guerrero announced that Edge had returned and introduced him into the contest. Hardy interfered and hit Triple H with a steel chair meant for Edge, thus costing him the title after a 210 days reign and resulting in Edge winning his sixth world title. After failing to regain the title at Armageddon, Triple H entered seventh in the 2009 Royal Rumble, but was last eliminated by Randy Orton.
February at Elimination Chamber, Triple H won the WWE Championship in the SmackDown Elimination Chamber match, setting the record for most reigns at eight. That record stood until 2011 when John Cena won his ninth WWE Championship.
On the February 16 episode of Raw, Triple H made an appearance aiding Stephanie and Shane McMahon, after they were attacked by Randy Orton. On the February 20 episode of SmackDown, Triple H was interviewed by Jim Ross; in the interview, footage was shown highlighting the events that occurred on the February 16 episode of Raw. Ross asked Triple H how he felt seeing that footage, in response, he broke character (after 5 years of marriage) by admitting that Vince McMahon is his father-in-law, that Shane is his brother-in-law, and that Stephanie is his wife, thus creating a rivalry between Triple H and Orton. On the February 23 episode of Raw, Triple H confronted Orton, before attacking him, Ted DiBiase, and Cody Rhodes (a group known as The Legacy) with a sledgehammer and chasing them from the arena. At WrestleMania XXV, Triple H defeated Orton to retain the title. He, with Shane McMahon and Batista, then faced Orton and The Legacy in a six-man tag match for the WWE Championship at Backlash. He lost the title to Orton after trying to stop Batista from hitting Cody Rhodes with a chair, allowing Orton to hit the RKO and punt to the head. After six weeks off of TV, selling the injury, he lost a Three Stages of Hell title match to Orton at The Bash. At Night of Champions, he again lost a title match to Orton, this time a triple threat match, also involving John Cena.
On the August 10 episode of Raw, Triple H met with Michaels at an office cafeteria in Texas where Michaels was working as a chef; throughout the show, Triple H tried to convince Michaels to return to WWE from hiatus. After several incidents (including grease grill burgers on fire and Michaels shouting at a little girl), Michaels agreed to team with Triple H to face The Legacy at SummerSlam, superkicked the girl, and quit his chef job.On the August 17 episode of Raw, Triple H and Michaels officially reunited as DX, but as they were in the process of their in-ring promo, The Legacy attacked them both. Their first match after reuniting was against The Legacy at SummerSlam, which they won. At Breaking Point, however, they lost to The Legacy in the first ever Submissions Count Anywhere match in WWE history.
On the February 21, 2011 episode of Raw, Triple H returned to WWE by interrupting the return of The Undertaker and challenging him to a match at WrestleMania XXVII, which later became a No Holds Barred match. A week later, he put Sheamus through the announce table with a Pedigree, in retaliation for Sheamus giving him a ten-month injury. At WrestleMania XXVII, Triple H lost, which extended Undertaker's undefeated streak to 19–0; however, Undertaker was carried from the ring on a stretcher whereas Triple H left the ring on his feet.
At the end of the July 18 episode of Raw, Triple H returned on behalf of WWE's board of directors to relieve his father-in-law Vince McMahon of his duties. This was followed by the announcement that he had been assigned to take over as Chief Operating Officer (COO) of the WWE. This was during a storyline where CM Punk had won the WWE Championship and left the company. Though a new champion was crowned, Triple H helped re-sign Punk and upheld both championship reigns. He announced he would referee a match to unify both WWE Championships at SummerSlam. Although he counted a pinfall for CM Punk to win, John Cena's leg was on the ropes, which would break the pin.
Regardless, Triple H's longtime friend Kevin Nash attacked Punk immediately after the match to allow Alberto Del Rio to become the new champion.Though Nash and Punk demanded a match against each other, Triple H fired Nash for insubordination and booked himself in a No Disqualification match at Night of Champions with his position of COO on the line. He won the match despite interference from John Laurinaitis, Nash, The Miz and R-Truth. After repeated attacks from these wrestlers in various matches, the majority of WWE's on-screen staff gave Triple H a vote of no confidence. Mr. McMahon returned to relieve him of his duties on Raw, though he remained the COO. He was replaced as general manager of Raw by Laurinaitis, who booked him in a tag team match against Miz and R-Truth at Vengeance.[139] During the match, Nash once again attacked him and did so the following night on the October 24 episode of Raw, hospitalizing him (kayfabe). WWE later announced that Triple H had sustained a fractured vertebra, and would be out of action. He returned on December 12, as part of the Slammy Awards. On December 18, he defeated Nash at Tables, Ladders, and Chairs in sledgehammer ladder match, after attacking him with a sledgehammer.
Triple H being taunted by The Undertaker ahead of their second consecutive WrestleMania match
Triple H returned on the January 30, 2012 episode of Raw to evaluate Laurinaitis' performance as general manager. Before he could announce the decision, he was interrupted by the returning Undertaker. After initially refusing the rematch as he did not want to tarnish The Undertaker's legacy, Triple H accepted the challenge after being called a coward who lives in Shawn Michaels' shadow, on the condition their rematch be contested inside Hell in a Cell. Triple H went on to lose this match at WrestleMania XXVIII.
Triple H returned on the April 30 episode of Raw, when he refused to give in to Brock Lesnar's unreasonable contract demands, resulting in Lesnar attacking him and storyline breaking his arm. Upon his return two weeks later, Triple H was confronted by Lesnar's legal representative, Paul Heyman, who announced Lesnar was filing a lawsuit against WWE for breach of contract. After he accosted Heyman, Heyman threatened another lawsuit against Triple H for assault and battery. At the No Way Out in June, Triple H challenged Lesnar, who was not present, to a match at SummerSlam, which Heyman refused on Lesnar's behalf the following night on Raw. At Raw 1000, Stephanie McMahon managed to goad Heyman into accepting her husband's challenge against Lesnar. To anger Triple H, Lesnar broke his best friend Shawn Michaels's arm on the August 13 episode of Raw. Six days later at SummerSlam, Lesnar defeated Triple H via submission after once again breaking his arm in the storyline.
On the August 27 episode of Raw, Triple H was supposed to address his potential retirement, but did not make a definitive decision.
Triple H returned on the February 25, 2013 episode of Raw, brawling with Brock Lesnar after he attempted to attack Mr. McMahon. The brawl resulted in Lesnar having his head split open and requiring 18 stitches. The following week, Triple H issued a challenge to Lesnar, requesting a rematch with him at WrestleMania 29, which Lesnar accepted on the condition that he could choose the stipulation. The following week, after Triple H signed the contract and assaulted Heyman, the stipulation was revealed as No Holds Barred with Triple H's career on the line.Triple H went on to win the match after hitting Lesnar with a Pedigree onto the steel steps.
On the August 12 episode of Raw, Triple H announced that he would be the special guest referee of the SummerSlam main event: the WWE Championship match between champion John Cena and Daniel Bryan, before giving original referee Brad Maddox a Pedigree. At the event, after Bryan won the match and the title, Triple H would give Bryan a Pedigree so that Randy Orton could cash in his Money in the Bank and win the title, therefore turning heel for the first time since 2006. Along with his wife Stephanie, they created The Authority, with The Shield as his enforcers and later Kane joining as the Director of Operations.
Over the coming weeks he set up handicap matches against any wrestlers who questioned his decisions, such as Big Show and Dolph Ziggler, even firing Cody Rhodes in retaliation for the latter's insolence. On the October 7 episode of Raw, after "firing" Big Show, Show knocked him out in retaliation and was carried out by officials out of the arena. At the 2013 Slammy Awards, Triple H immediately performed a Pedigree on Orton after Bryan shoved him into Stephanie McMahon, despite Orton's shock.
At WrestleMania XXX, Triple H lost to Bryan, thereby granting Bryan a part in the subsequent title match against Batista and champion Randy Orton. Triple H assaulted Bryan after the match and later attempted to prevent Bryan from winning the title by interfering and recruiting Scott Armstrong as a crooked referee, but these attempts were unsuccessful as Bryan won the title by making Batista submit. In order to end Bryan's title reign, Triple H reformed Evolution with Orton and Batista on the April 18 episode of SmackDown, but Bryan remained champion due to The Shield turning on The Authority. At Extreme Rules, Evolution lost to The Shield and again at Payback in a No Holds Barred elimination match. On the June 2 episode of Raw, Batista would leave the group after Triple H refused to grant him his shot at the WWE World Heavyweight Championship. Triple H would then resort to "Plan B", which would be Seth Rollins turning on The Shield and rejoining The Authority.
On the October 27 episode of Raw, Triple H would offer John Cena a chance to join forces with The Authority, which Cena refused. This led to Triple H announcing a five-on-five tag team elimination match for Survivor Series, with a team representing The Authority facing a team captained by Cena. On the November 3 episode of Raw, Mr. McMahon announced that if Team Authority would lose, they would be removed from power.On the November 21 episode of SmackDown, Triple H announced that if Team Cena lost, all of Team Cena, except Cena himself, would be fired. At Survivor Series, Big Show joined The Authority by betraying Cena, but Sting made his WWE debut, attacking crooked referee Scott Armstrong and Triple H, and assisted Dolph Ziggler in pinning Rollins to give Team Cena the victory, putting the Authority out of power.
After being out of power for a month, Rollins coaxed Cena into reinstating The Authority on the December 29 episode of Raw, by holding Raw guest host Edge hostage with Big Show. On the January 19 episode of Raw, Cena would defeat Rollins, Kane and Big Show in a handicap match when Sting distracted The Authority, allowing Cena to pin Rollins and win back the jobs of Ziggler, Ryback and Erick Rowan, who had been fired two weeks previously by Triple H and Stephanie. On January 26, it was officially announced via WWE.com that Triple H challenged Sting to a "face-to-face" confrontation at Fastlane, which Sting accepted; at the confrontation, Sting challenged Triple H to a match at WrestleMania 31, which Triple H accepted. At WrestleMania, Triple H defeated Sting with interference from D-Generation-X, but shook hands with Sting after the match. After his match with Sting, he and Stephanie McMahon were later confronted by The Rock and Ronda Rousey during a promo regarding the record crowd at the event.
Throughout 2015, Triple H maintained his role as the leader of The Authority, and was involved in mediating issues between Seth Rollins and Kane. Over the summer, Triple H began to test Rollins by having him defend the championship against Roman Reigns, Brock Lesnar, John Cena, and Sting.
After WrestleMania 32, with The Authority now disbanded, Triple H would go on to wrestle the WWE Live tour of the U.K in late April before taking an hiatus from WWE television, although he would continue to appear at NXT and WWE Cruiserweight Classic events. On the August 29 episode of Raw, Triple H made his return to WWE television by interfering in the main event for the WWE Universal Championship, delivering a Pedigree to Roman Reigns and Seth Rollins, before handing Kevin Owens the win and the newly established world title. He later appeared on the live finale of WWE Cruiserweight Classic as he unveiled a new belt for the WWE Cruiserweight Championship, and was awarded to T.J. Perkins, whom won the entire tournament after defeating Gran Metalik in the tournament final.