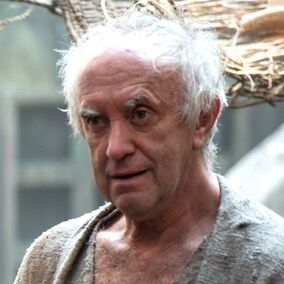 High Sparrow is an antagonist of the TV show Game of Thrones and appears as the secondary antagonist in Seasons 5 and 6.
He also is the High Septon of Seven Kingdoms, as well as the leader of the Sparrows. He also commands the Faith Militant, serving as the right arm of Faith, and later becomes a major enemy towards the Lannisters.
Game Of Thrones
After of talk with his cousin Lance and discovers about the Faith Militant and in the High Sparrow, Cersei go for do a visit in his church which already invaded and destroyed to ancient brothel of Littlefinger. In his visit her for High Sparrow which Loras Tyrell is homosexual so High Sparrow pomises which go punish Loras for his sins. After which Faith Militant holds Loras, he is judged and Loras deny being gay, and his sister Margaery confirm that also. so Faith back a of Loras's lovers for talk which said what Loras is gay, with that Margaery is prey for to lie. So Olenna not enjoying of this go for talk with High Sparrow and offers many thing in exchange of the release of his grandchildren, more the High Sparrow being refusal, after which they discovers what Cersei not is innocent and her already cases incestuos with his cousin Lance and Jaime so the High Sparrow weapon a ambush which her is prey in start Cersei deny but after ends confessing, and her is humiliated in public after of accept the punishment, so after High Sparrow can manipulate King Tommen Baratheon talk about his faith, which later Cersei plans being avenge for humiliation which High Sparrow and the Faith Militant did the her. Begins so to judgement of Loras which admits all his crimes so they cut the Loras's forehead which after of Margaery to perceive which Cersei not would go to judgment and all was a trap, with that Margaery tries convince to High Sparrow and the other to leave the place but without success. Which fire ends for kill all the people what in place.
TRIVIA
High Sparrow had many similar with

Baelor I Targaryen

already both are initially shown as a individual kindness and fanatics with his own religion.