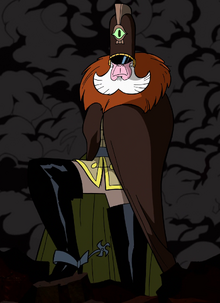 | | | |
| --- | --- | --- |
| " | After you left me behind, I was forced to find a way to...reason, with the beasts of Mutraad. | " |
| | ~ General Modula to The King. | |
General Modula (simply known as Modula) is the main antagonist in Sym-Bionic Titan. He was once the General of the planet Galaluna, and a dear friend to the king. But during a battle at an enemy planet Muttrad, the army and the king barely made it out alive, but unfortunatly left Modula alive, then Modula changed and lead the Muttraddi to invade Galaluna to take revenge. Now he was after the princess of Galaluna, Ilana so he can fully rule Galaluna.
He was voiced by Don Leslie.
History
Modula was once a close friend to the king and his most trusted general. As shown during flashbacks, he was an honorable and respectful man to everyone, even the princess. He was present during an award ceremony for a young Lance, but a fight between Lance and his schooll rival, Baron, ruined the ceremony. Modula personally intervened and the two were punished. At some point during the war with the Mutraddi, the king and his general arrived at the enemy homeworld and did battle. Modula was caught in an explosion and the king was forced to retreat, unknowingly leaving him for dead. Modula survived, by unknown means, and desired revenge against his former friend. Having spent several years on Muttrad, enslaving many creatures and apparently showing some of them how to speak, Modula convinced a captain on Galaluna to aid him in an invasion of his former homeworld. While said captain was killed, Modula's involvement was kept secret until after the king was captured and Ilana, Lance and Octus escaped.